If you feel like you are not enough or that your life needs to change for you to be happier and healthier, Episode 120 is for you. In this episode I interview the founder of The Daily Shifts, Doug Cartwright. The Daily Shifts is an app that encourages you to engage with your mind and body in a way that can turn your day around. In this episode we talk about so many amazing things:
The power of loving kindness meditation
Breathing: Inhale in for 2, Hold for 2, Exhale for 2
The power of Gratitude
The importance of knowing how to manage your energy
"In less than two minutes you can totally change your energy"
The power of transitions to boost or suck our energy
"The number one most important decision I've made was I surrendered my life to the universal flow of the planet."
Surrender to the universe, AND show up everyday the best you can.
A powerful mindset: "Life is happening FOR you and not TO you."
We get back what we put out into the world
Transformative journalism with Michelle Gielan (25:15)
Unfollow negative news and people who are spreading negativity and replace with positivity
How to vote when you don't follow the news (ask trusted friends and then use iSideWith.com to save a year of contention and negativity energy suck.
The loneliness epidemic (31:45) is based in the belief of "I'm not enough"
We are here on earth to do two things: Create and Connect
To have a more happy life create a routine ritual to connect with your intuition and higher self (37:25)
Sign up for The Daily Shifts at https://www.thedailyshifts.com/ and if you sign up for premium membership, you'll also get The Daily Shifts course that is worth $500. This is an amazing deal exclusive to More Happy Life listeners!
More about Doug: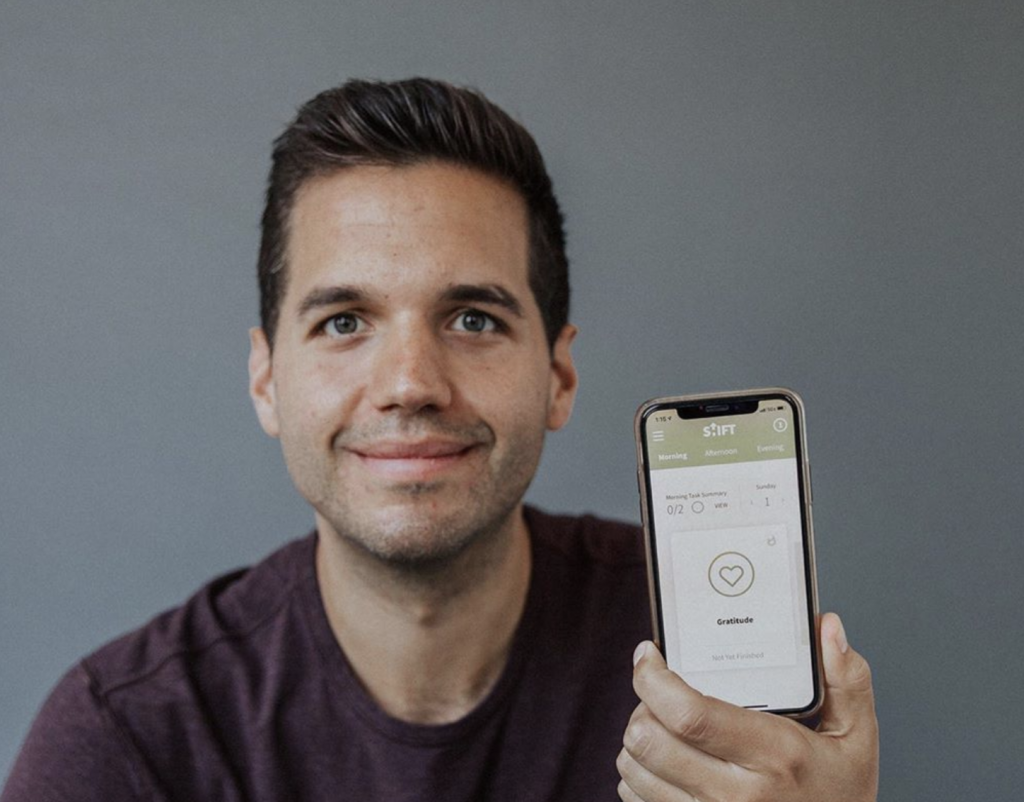 Doug Cartwright is the founder of a new app called The Daily Shifts that helps you to ritualize daily physical and mental shifts to improve your health and happiness. Doug has an amazing story of going from being one of the top sales reps at Vivint, selling over 300 accounts per year having made over a million dollars by the time he was 25. Then he came to a point in his life where he realized he wanted something more than just making more money and buying more things. In today's episode he shares the transformation of how he found his new purpose in creating daily shifts in his own mind and body through connecting to his intuition.
Follow Doug Cartwright:
https://www.instagram.com/thedailyshifts/
https://www.instagram.com/doug_cartwright/
Other people mentioned in this episode:
Listen to this episode on your favorite podcast app:
More Happy Life on Apple Podcasts.
More Happy Life on Google Play.
More Happy Life on Pocket Casts.
More Happy Life on Google Podcasts
Like this episode or article? Never miss another post by subscribing to the podcast and the free newsletter. Also follow us on Instagram and Facebook.