Do you ever feel overwhelmed by the amount of negativity in the news? Do you doomscroll? Well, 2020 is the year of the doomscroll and it can be really hard to avoid the negativity that inundates our digital news feeds. I have spoken about the benefits of taking breaks from the news and the negative impact that constantly watching the news can have on our health. Some choose to avoid the news altogether, but with the constant changes in even our local regulations, you have to be informed.
My guest on today's episode of More Happy Life is Mauro Gatti, the creator of The Happy Broadcast, an anxiety free news broadcast that started as Mauro's way of using his skills as an artist to decrease his own anxiety. He started looking for positive news to balance the negative news. When he combined this with his gift as an artist, The Happy Broadcast was born. He has been illustrating and sharing positive news on social media since 2018 and it is one of the most inspiring Instagram accounts I have ever followed and has grown to over a half-million followers in just a few years because of the powerful positivity that he is spreading. I even did a special episode based on the news on The Happy Broadcast.
I loved my conversation with Mauro and hope you not only listen to our conversation, but that you go follow his inspiring work. We all need a little positivity boost amidst the things that are out of our control. One big takeaway I got from Mauro was to get out and do something. Even if you only watch negative news, do something to be a part of the solution! All the positive news is a result of someone who decided to take action for a good cause.
In our episode we covered a lot:
Why Mauro started The Happy Broadcast
How hard it is to find positive news (you don't just stumble upon it)
The impact doomscrolling has on our health and how to stop doing it
Why it's important to stay informed, even amidst the negative news
How to have a healthy relationship with the news and social media
How to have more hope in the face of seeming doom
The secret sauce to a happy life
Mauro's dream for the world
My favorite quotes from Mauro: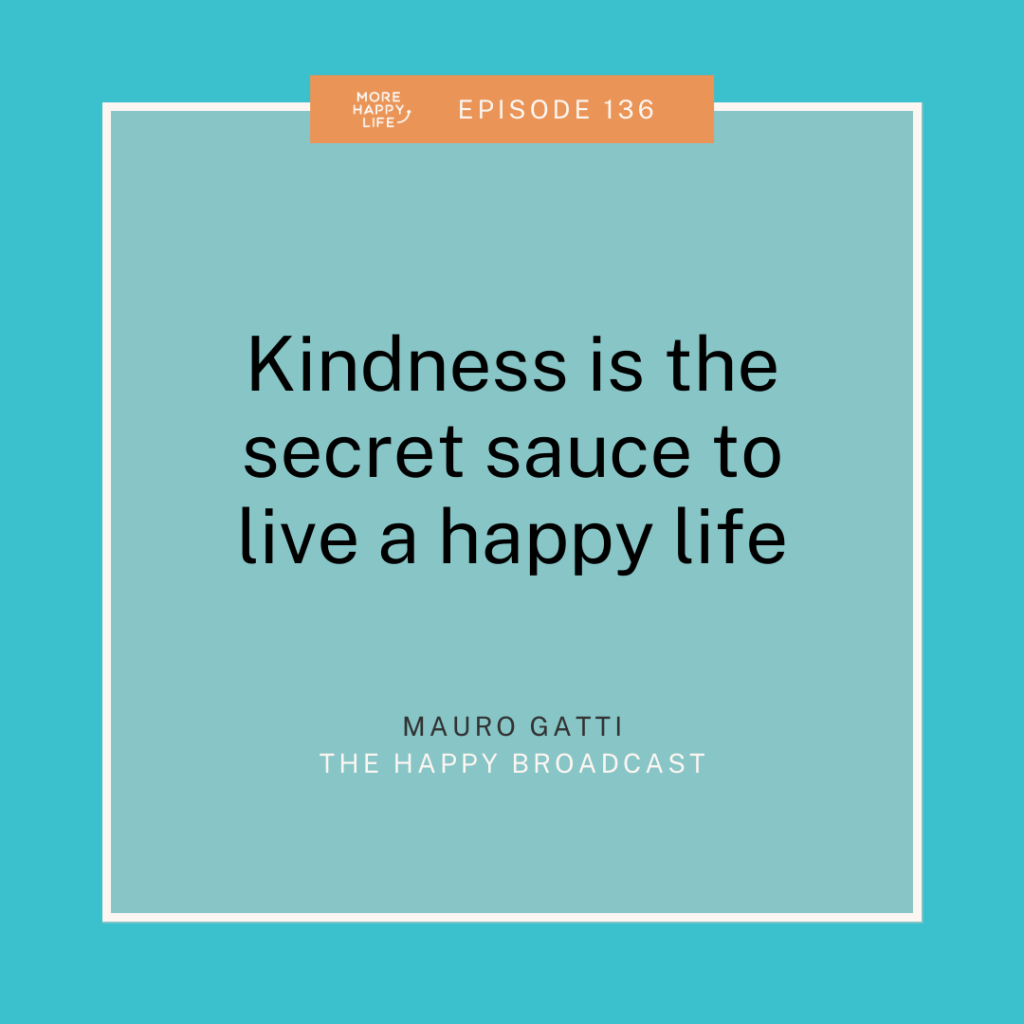 "Kindness requires action"

- Mauro Gatti
"Staying informed is important, but being overwhelmed by tragedy serves no purpose."

- Mauro Gatti
"Kindness is the secret sauce to live a happy life."

- Mauro Gatti
"There will always be hope as long as there is action."

- Mauro Gatti
Listen to this episode on your favorite podcast app:
More Happy Life on Apple Podcasts.
More Happy Life on Pocket Casts.
More Happy Life on Google Podcasts
Like this episode or article? Never miss another post by subscribing to the podcast and the free newsletter. Also follow us on Instagram and Facebook.
More About Mauro Gatti and The Happy Broadcast
Originally from Italy, Mauro Gatti lives in Los Angeles where everyone surfs except him. Mauro is an award-winning creative director, illustrator and designer who loves pizza, dogs, and imagining things. He also loves to make people happy with his art, because a smile is the cheapest route to happiness.
Mauro is also the creator of The Happiness Broadcast, where he finds positive news from all over the world and creates art to depict the positive stories. His account on instagram has over 530,000 followers with even more on Facebook and Twitter. He recently published a book that just came out yesterday (September 22nd) and is both pleasing to the eye and inspiring to the soul.
Buy The Happy Broadcast book here.
Mauro's website: https://www.thehappybroadcast.com/
Find and follow The Happy Broadcast
Instagram: https://www.instagram.com/the_happy_broadcast/